Workshops Main
ARE YOU AWARE OF YOUR POSTURE ?
Is your head slumping ?

Back rounding ?

Shoulders aching ?

Pain in hips and feet ?


LIFE CAN GET YOU DOWN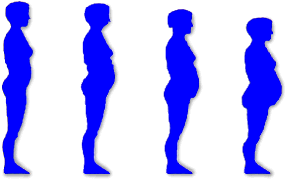 The average person loses 2 to 4 inches in height

to the ravages of stress and gravity.

The descent is gradual. Not noticed at first.

Shoulders round. Chest slumps. Tummy descends.


WANT TO RESIST THE RAVAGES OF STRESS AND GRAVITY ?


Your best defense against loss of height and torso

shape is a deep band of core muscles called psoas.


PSOAS

Attached to the inner wall of the spinal vertebrae

behind the front tummy muscles psoas cannot be seen

or touched. But we can feel them.


FIG. A below shows the psoas contracting upward to support the rib cage

and shoulders. This support prevents shoulder-neck and back tension.


While the psoas lift the rib cage the

upper front tummy muscle contracts

inward to the hold the rib cage in

place.

This interaction of psoas and upper

tummy muscle (abdomini erectus )

forms the uddyana lock and defines

the waistline.
FiG. B shows weak psoas pulling the rib cage downward and tummy

bulging forward as often happens thru prolonged sitting and driving.

Lower back begins to sway or arch inward putting pressure on

lumbar vertebrae. Note how the waist line disappears.



Maintaining a waistline is a health as well as cosmetic issue.

Kareena's workshop shows how body locks

(bandhas) support our effort to maintain torso

shape. Get a better grip on your abdominal

muscles thru visual instruction, gentle yoga

stretches and other alignment techniques.

WANT TO GIVE YOURSELF A LIFT ??

Join Kareena's Alignment Clinic

MARCH 8 SUNDAY 3-5pm

or Schedule a private consultation
Kareena 773.764.6488
e-mail :
relax@kareenayoga.dance







Learn more about Kareena's techniques thru

her YogaChicago magazine articles:
Yoga For Seniors: Standing Tall Again
VIEW VIDEO
STABILITY IN FLUIDITY NOT RIGIDITY
Top of Page
Home | Schedule | Reviews | Yoga | Bellydance | Workshops | Instructors | Articles| Location | Seniors | Yoga to Conga CD|