KAREENA
E-RYT 500
Studio Director
Kareena's approach to health and fitness is multi-

disciplined and cultural. Drawing from her training in

dance, meditation and alternative therapies Kareena

helps clients achieve optimal body alignment and agility.



Her yoga classes are relaxing and meditative combining

soothing torso isolations, gentle asanas and pranayamas

to get more in touch with the core body. Clients are advised

to work at their own pace as they ease into modified asanas

and then advance into more challenging variations .



Kareena's belly dance fitness classes feature authentic

Egyptian shimmies, undulations and pelvic contractions.

Her approach is fun and encouraging for non-professional

dancers. But whether you are a beginner or advanced you

will enhance your body attitude with grace and style.



Class size is limited to insure hands-on alignment for all.

PRIVATE SESSIONS AVAILABLE

VIEW KAREENA'S ARTICLES IN YOGA CHICAGO MAGAZINE :

Back Pain, time to get foot smart
Belly Fat, the good, the bad and ugly
From Yoga to Dance

Yoga For Seniors: Standing Tall Again



ALLY
Tai Chi Instructor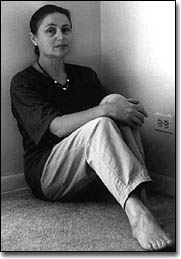 Ally helps beginning Tai Chi students to relax the mind

and improve balance and stability by getting in touch with

core-energy.


An accredited T'ai Chi Chih instructor who has worked

with seniors and those recovering from trauma or strain

Ally graduated from midwifery school in the USSR and worked

as a surgical nurse at Minsk Hospital where she also studied

parapsychology and hatha yoga.


After an injury in 1996, Ally was unable to practice yoga

and looked to T'ai Chi Chih, a gentle form of movement

that relaxes the muscles of the lower back and legs.


In addition to her classes at Sweet Magic Studio

Ally teaches at Oakton Community College.

All levels of fitness are welcomed in her classes.