SHIMMY TO NIRVANA
BELLY DANCE FOR FUN and FITNESS

*** Party Entertainment for Special Occasions ***
phone for rates





WEEKLY CLASSES
BEGINNER COURSES
Hypnotic Soothing Graceful

New 6 Week Course starting Sunday Jan.19 / Tuesday Jan.21

Get more in touch with your core body.

Follow Kareena thru sensuous torso

isolations, undulations and shimmies.

Learn authentic Middle Eastern dance at

a fun vibe studio.

Text or phone to reserve space

ONGOING CLASSES
Beginners welcomed


SATURDAYS
2-3 pm
SUNDAYS
3-4pm

TUESDAYS
6:30-7:30pm


Review torso isolations and shimmies

and combine with graceful hand motion

and easy to follow footwork.

Low impact workout that lifts the spirits

as well as tummy and thighs.

No dance experience required.

Join anytime
PARTY ENTERTAINMENT

Birthdays, Showers, Bachelorette parties
and other festive occasions

CLIENT REVIEW -- ALI

" I had the pleasure of learning to Belly Dance

thanks to Sweet Magic Studio! In one fantastic

hour, Kareena enthusiastically taught 15 of my

best girlfriends to belly dance as part of a

bachelorette party. She was attentive to our

strengths and quickly adjusted as we learned

more difficult combinations.

I can't wait to do it again! Thank you Kareena! "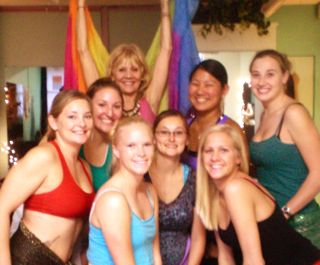 WHAT TO WEAR ???

Wear flowing feminine attire ...long soft skirts or long pants...

halter tops or leotards for the upper torso.

NO SHORTS, MINI-SKIRTS OR BAGGY SWEATS.

Bring bright scarf or belt to wrap around hips.

Barefoot or soft slippers.

MORE CLIENT REVIEWS
Adam P.


Welcoming, intuitive, non-competitive, experienced and

knowledgeable teacher. I'm loosening up beyond what I

ever imagined, and it's helping me in other kinds of dance.

Plus, Ilike the atmosphere. I walked in one cold, dark,

December night after thinking about trying bellydance for

years, and seven months later . . . much more confidence

and better tone.
Mearl S.


I have been attending Sunday Belly Dancing classes with

Kareena for a year and three months. I love it. It is a bit of a

drive for me every week but it is worth it. I have chronic

back problems and Kareena works with me to attain correct

posture. She believes taking care of the entire body.

Strengthen my core helps me to control and weight and my

stress level. Come by and watch and you will be hooked like

I was.
Valerie Periera


As a Christmas gift and New Year's resolution, I decided

to enroll in the six-week beginners belly dancing

classes at Sweet Magic Studio on Saturdays. After

the first class on January 6, I was very impressed

and instantly captivated.

Kareena is a wonderful instructor who is highly

knowledgeable, caring, patient and enthusiastic

about teaching.


Even though I only had three sessions so far, I can't

wait for the next weekend and look forward to

going to the next class and learn something new.

Each class has been different and unique.
Yelena

I started to take belly dance lessons with Kareena a few months ago. I love the sensuality of belly dance. Kareena's style of teaching is very soothing and relaxing. Kareena makes you feel graceful, sexy and classy. I love Kareena's professionalism. You will very much enjoy taking classes with Kareena no matter if you are a beginner or advanced dancer. I absolutely recommend to come and try one of her classes.
Beth Hall

Sweet magic studio was exactly what it promises to be,
a place where your body immediately feels controlled
and poised, ready to move. Your mind becomes inspired
by an amazing woman who leads you through poses that
must begin from the inside in order to see the physical
movement on the outside. As a yoga instructor I found
belly dancing to be a much more spiritual and internal
exploration than I was assuming it would be, but my abs
killed me the next day, so either way I'm happy!
Thanks Kareena!
Maristela Zell

Every Wednesday night I head to the city for
the one of the most exciting activities of my busy
week: belly-dancing with Kareena!

Combining classic moves and modern choreography,
Kareena leads our aspiring group into sexy hip sways,
body shimmy, and veil swirls, all accompanied by spell-
binding music. The class is not only about seductive moves,
though. Kareena's routines include proper warm-ups and
movements that include the whole body.

She focuses on developing flexibility and strength.
Also, step-by-step instruction makes the
movements easy to follow, whether you are a
beginner or more advanced student.
Christine E. Kosmeja


When I finally gathered the courage to try belly dancing
I found Sweet Magic Studio.

While I may not always feel comfortable with the
skin I'm in,I have,thanks to Kareena's patience,
words of encouragement,and enthusiasm for dance
learned that I CAN move gracefully.

I CAN embrace the sensuosness of my physical self
and be more accepting of my curves.

I have also dropped in on her yoga classes and
always come out refreshed and feeling a little more
at peace with my physical self.

We should all have Kareena's zest for living
and moving through life as well as she does.
Kareena is a fantastic teacher.
MORE REVIEWS
Click here to read all reviews SWEET MAGIC STUDIO 6960 N. Sheridan Rd. Chicago

Click for STUDIO LOCATION, PARKING and TRANSPORT
Top of Page
Home | Schedule | Yoga | Bellydance | Workshops | Instructors | Location | Articles| Seniors | Reviews | Yoga to Conga CD|